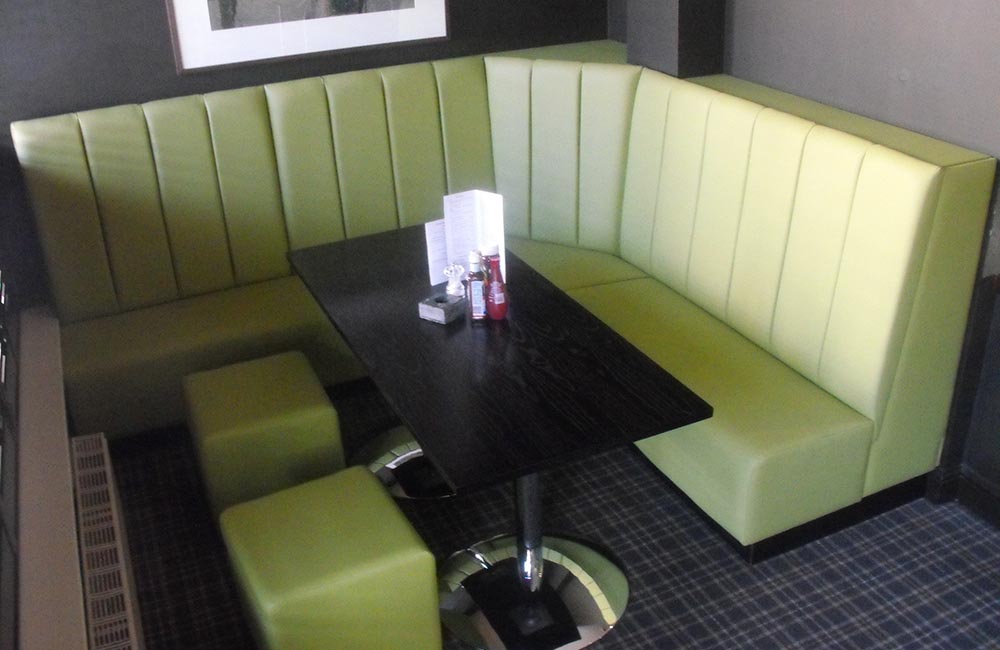 Barony Castle Hotel, Peebles
Barony Castle Hotel, Peebles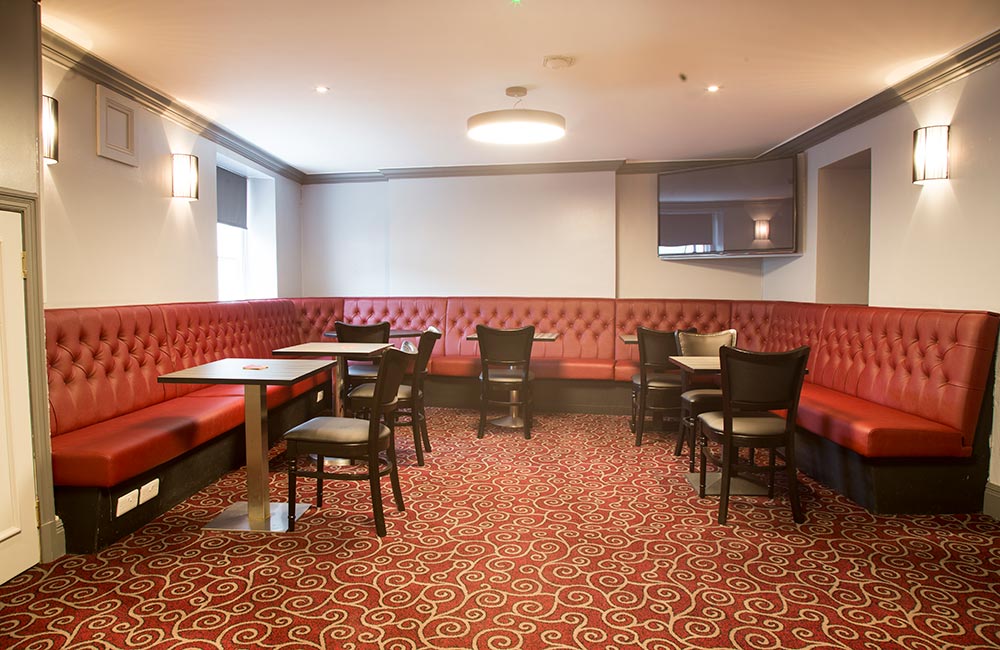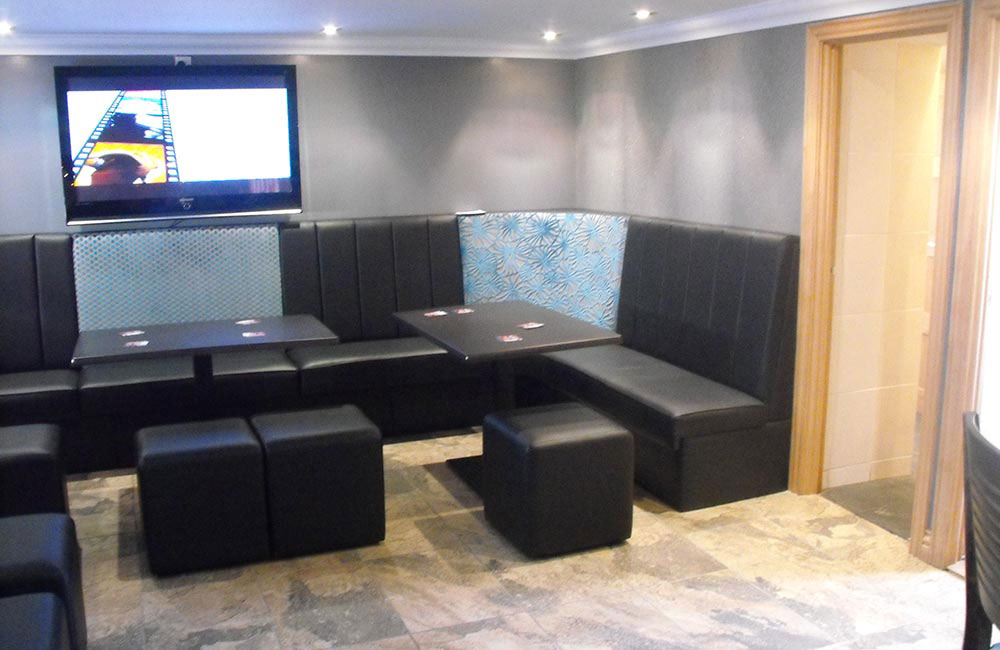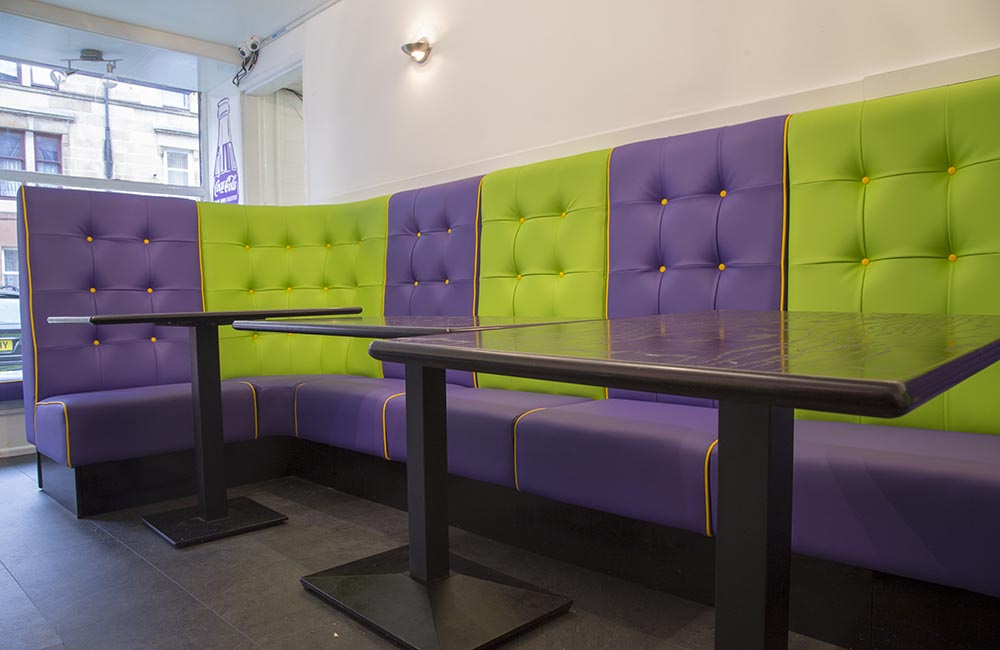 ---
More about SIG Contracts
Our Bespoke production service allows you to create your own unique seating areas for your venues including: booth seating, round booth seating, banquette seating and modular seating all designed entirely to your specifications. Select your own dimensions, style, shape, comfort, material/fabric, colours, finishing details and our highly skilled craftsmen will enhance your ideas to make it practical yet stylish while turning your vision into a reality. Our Seating is crafted with the highest quality of foam and fillings to create amazing comfort that lasts! Select a material from our wide range of fabric, leather and faux leather suppliers and choose the perfect design, shade and colour for your project. Alternatively you can supply us with your own material (Providing it meets all British Fire & Safety Standards) and our experience upholsterers will create a show stopping, eye catching piece of furniture, designed and built entirely to your requirements.
Along with the bespoke service, we also offer a full re-upholstery service and with the perfect selection of materials, our specialist team will totally rejuvenate your old products and transform them back into the beautiful piece of furniture that they once were.
A Family ran business with over 80' years combined experience in the upholstery industry, we are more than happy to help with any enquiries that you may have. The Reputation that we have built up throughout the years since 1985 has been acquired through our hard work, positive relationships with our wonderful clients and the high quality of our hand-crafted furniture!
We combine traditional and modern production methods to ensure you receive the very best quality of furniture and enjoy total customer satisfaction with your product. Everything that you see both on our website and in our showroom is handmade by our skilled craftsmen to the highest possible standards.
Find SIG Contracts' Domestic furniture website here at www.suiteillusions.co.uk where you will find our Sofas, Chairs, Headboards, Scatter Cushions, Wall Panels, Home Banquette Seating and all other soft furnishings for all of our domestic clientele.
Contact us for a no obligation quote on 0141 647 0427 or 0800 316 9339, Email enquiry@sigcontracts.co.uk, our online form or message our social media pages. We look forward to hearing from you!
---
Testimonial
Read what our clients say about SIG Contracts
Codona's Amusement Park
01-11-17
We have worked with the Suite Illusions team for the past ten years. They have worked on some different projects in our complex including our play area, bowling alley and bars. The team are friendly, professional, efficient, knowledgeable and always meet the deadlines requested. Taking this all into account I would highly recommend Willy and the team to anyone requiring their service.
Forbes Of Kingennie
28-10-17
SIG Contracts did a fantastic job of creating chesterfield leather booth seating for our countryside bar. They were friendly and efficient and we couldn't be happier with how the seating looks and feels.
Other Furniture by SIG Contracts